About - DPPOS
Learn more about the Diabetes Prevention Program and Outcomes Study:
Background
"Twenty years ago, many people assumed getting diabetes was just part of getting older and felt powerless to do anything about it. DPP changed that. It helped focus more attention on diabetes and, most importantly, proved that it is not inevitable. As we now know, type 2 diabetes can be prevented or delayed in many cases. DPP is is the largest and longest trial sponsored by the National Institutes of Health that showed how we might actually reverse this worldwide epidemic," David Nathan, M.D.
Timeline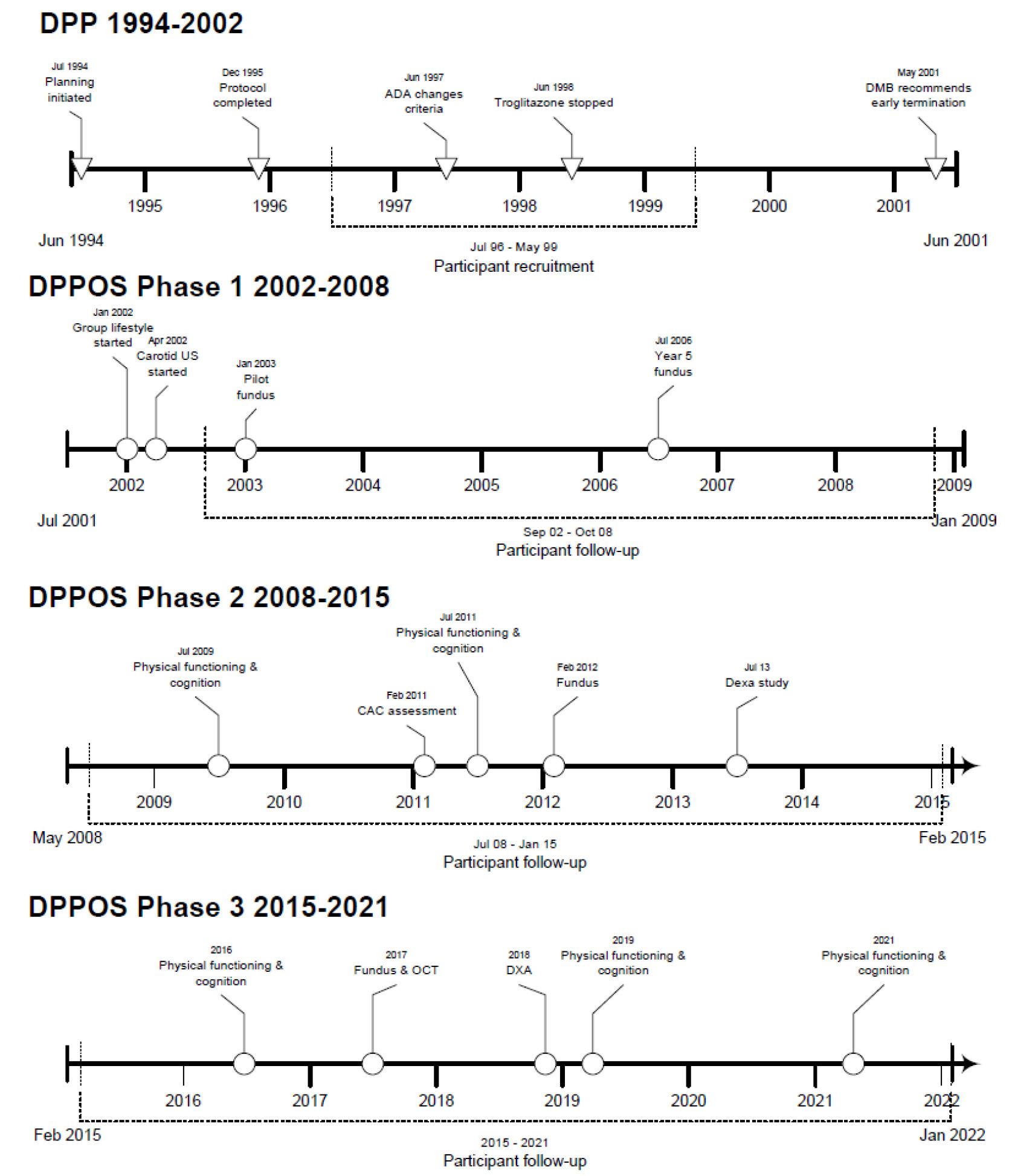 The DPP/DPPOS chronology is as follows:
1996-1999

DPP screening and randomization.

2001

DPP stopped one-year ahead of schedule in 2001 on the advice of the Data Monitoring Board due to statistically significant and clinically compelling decrease in the development of diabetes in the lifestyle intervention and metformin-treated groups.

2001-2002

DPP Bridge: Metformin washout study and lifestyle training for all participants.

2002

DPPOS was funded for a five-year period ("DPPOS Phase I") with the understanding that completion of the originally-proposed 10-year study would require re-funding via competitive renewal.

 

2004

 

NIDDK administratively approved an additional year, recognizing that analysis of five-year data in a study of this size would require an additional year.

2009

NIDDK awarded funding for the second 5 years of the 11-year study ("DPPOS Phase 2"), based on a rigorous competitive renewal process.

2011

NIDDK administratively approved an additional year prior to submitting a non-competing continuation.

Oct 2013

Scheduled end of DPPOS primary outcome assessments for Phase 2.

Jan 2015

Scheduled end of DPPOS Phase 2 funding.

Feb 2015

One year administrative extension to re-submit non-competing renewal

Oct 2015

NIDDK approved funding for the first 5 years of the 10-year study (DPPOS Phase 3), based on a rigorous competitive renewal process

Feb 2016

DPPOS Phase 3 funding began

Feb 2021

DPPOS Phase 3 one-year extension funding began

Jan 2022

Scheduled end of Phase 3 funding

Feb 2022

No cost extension begins
Research Group
Information for each clinical site and research core is listed under Research Group.

Program Staff Only: To access the research group website, please click here.

DPPOS Coordinating Center
George Washington University Biostatistics Center
6110 Executive Blvd. Suite 750
Rockville, MD 20852
dppmail@bsc.gwu.edu

Technical Support
Please contact the DPPOS webmaster with any problems with login or accessing documents from the website.